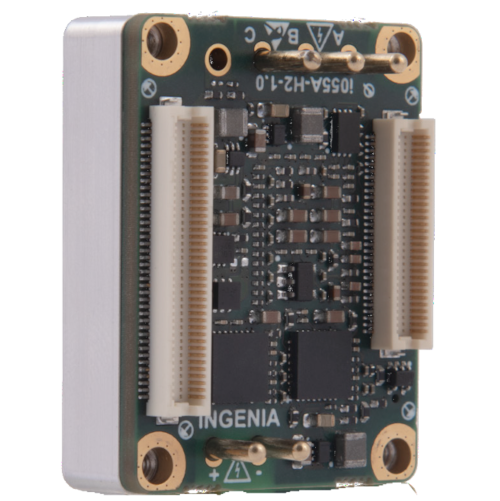 Celera Motion has released a servo drive for your next generation applications that is 'the smallest, most powerful servo drive in the world'. The Capitan Series servo drives is just 10.3 mm in height and 18g in weight, designed for applications in robotics and autonomous vehicles. This product is distributed in the UK by INMOCO. Experience high efficiency for battery-powered machines with a very low standby current.
Providing 10 A continuous current, the Capitan operates with an input ranging from 8 to 60 VDC. The drive supports multiple motor types including DC brushed and rotary brushless – suited to pair well with Celera Motion direct drive frameless motors.
The very low profile and light weight allows Capitan to easily integrate in compact footprints including robotic joints, flat actuators, end-effectors, surgical robots, exoskeletons, gimbals and haptic applications. Crucial for mobile applications, power control techniques and standby power consumption down to 1.12 W, combine to deliver up to 99% efficiency. Multiple Capitan servo drives can be connected together on the fieldbus to create multi-axis systems, and as a further benefit of the compact size, the drives can be mounted very close to the axis – minimising the cost of wiring and time of installation.
The Capitan Series optimal heat dissipation is vital to attain the high power density required for miniature applications. This is achieved through a transistor bonded to a ceramic film and attached directly to the heat sink, rapidly expelling excess temperature. Standby power has also been reduced to minimized the heat generation, and firmware architecture has been designed to accommodate PWM frequencies up to 200 kHz.
Communication options include SPI, CANopen or EtherCAT. EtherCAT update rates include low latency down to just two cycles, significantly faster than most servo drives. The high-speed SPI bus communication features a command update of just 20 kHz. Combining performance with safety, Capitan integrates functional safety STO SIL-3 Ple.
Simple to commission, the Capitan is programmed with Celera Motion's Ingenia Motion Lab software that is used to set-up other drives in the same range. The Motion Lab software also includes autotuning and monitoring features to rapidly achieve motion performance.
The Capitan XCR is ready-to-use, enabling quick install and system commissioning. The pluggable module versions, Capitan NET and Capitan CORE, allow easy integration into a carrier board without soldering, providing the continuous current is below 10 A.
Supplied to the UK through INMOCO, the Capitan Series servo drives are well suited for OEM design engineers integrating motors, drives and control solutions into their applications.