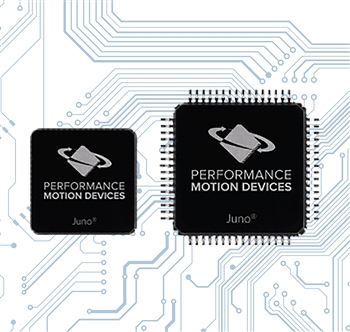 Motion control experts INMOCO have available a new torque control IC (integrated circuit), designed for applications with limited space but which need to control noise, vibration and power consumption. The new Juno® torque control IC is made by Massachusetts company Performance Motion Devices, Inc. and complements the existing Juno® motor control ICs.
The Juno® range of ICs offer full four quadrant motion control, direct input quadrature encoder, profile generation and advanced current control. Juno® ICs are easy to deploy with embedded motion commands and on-board intelligence.
The new Juno® torque control IC packages have PWM (pulse width modulation) frequencies going up to 120khz. They include multi-phase waveform generation, and advanced current control for both brush DC and brushless DC motors. In addition, they provide OEMs with numerous safety features including over- and under-voltage sense, over-current detection, over-temperature, and i2t current feedback. A NVRAM (non-volatile random-access memory) holds motor parameters and motion trace information that can be used to track and optimise system performance.
The ICs will enable engineers and designers to gain accurate, reliable, quiet motor control and are suitable for a wide range of applications. Typically, these include, precision liquid pumping, flow rate control, and precision torque control for servo presses and nut runners, etc. They are equally suitable for many other robotic, medical, scientific, and industrial applications where there is a need to minimise noise, vibration and power consumption and/or have limited space availability.
Juno® ICs are designed for ease of use, being configured to directly control digital amplifiers as well as with bridge-type switching amplifiers. Their proprietary current and switch-signal technology ensures ultra smooth motor operation and gives the engineer full control over FET switching and timing. Depending on the type of motor controlled, Juno ICs can provide motor commutation, microstep generation, internal profile generation, and take pulse and direction and SPI input.
The Juno® IC family includes velocity control, step motor control as well as the new torque control ICs.