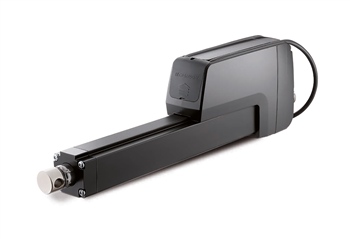 The innovative Thomson Electrak HD range of linear actuators from INMOCO has been extended with higher power capacities, opening up new possibilities in hydraulic-to-electric conversion across a broad spread of applications. These smart electromechanical actuators also incorporate onboard electronics that can eliminate the need for standalone controls, with a synchronisation option that enables the integration of two or more actuators.
With load capacity increased by 50% in the newly extended range, the Electrak HD actuators can now handle loads up to 16kN. The actuators with the highest load rating in the range, the 16kN units, are available with stroke lengths up to 500mm; longer stroke lengths, up to the 1m maximum, can be supplied with up to 10kN load ratings. This enables the actuators to be used in some of the most demanding applications that could previously only have been handled by hydraulic actuators.
In addition, protection to IP69K means the actuators can be used in the most environmentally demanding applications. They are built to withstand dirt, water, fertilisers, acids and oils, and can be used across a broad range of temperatures extending from -40degC to +85degC.
Another new feature is the synchronisation option, with enables machine designers to handle not only heavier loads but also uneven loads. For example, a load that is much heavier at one end than the other could damage a machine and its components if not handled properly, but the synchronisation feature allows two or more Electrak HD units to share and evenly distribute load.
Synchronisation enables designers to advantage of a more stable and potentially quicker lift, without the requirement for additional guides or mechanical linkages. This also means simpler installation, which extends to the wiring of the system as well, since the integrated controls for synchronisation eliminate the need for external sync control.
Electrak HD actuators are built around a high-quality ball screw, the efficiency of which reduces power consumption by up to 20%. This is protected by a hard-anodised aluminium cover tube and a stainless steel extension tube. The modular design of the HD allows all control and feedback options to be built into a single compact housing, which improves controllability, saves space and reduces installation time and total cost. A CAN J1939 bus option can eliminate individual controls and simplifies OEM machine design.
The wide range of optional control features can, in many cases, eliminate the need for external controls. This saves design and installation time, as well as space and cost. It also allows the HD to be customised to the specific needs of demanding heavy-duty applications.
Gerard Bush of INMOCO comments: "Electrak HD actuators can deliver huge benefits over pneumatic and hydraulic mechanisms, including reduced design, installation and operation costs, while improving controllability, safety and productivity.
"With the increased load capacity and the synchronisation option, the actuators can now handle an even broader range of applications, accelerating the trend towards electric conversion of actuation in the most demanding machinery tasks and mobile on- and off-highway equipment. Replacing hydraulic and pneumatic systems, the Electrak HD actuators are smaller, cleaner and easier to integrate with modern computer-based control systems."