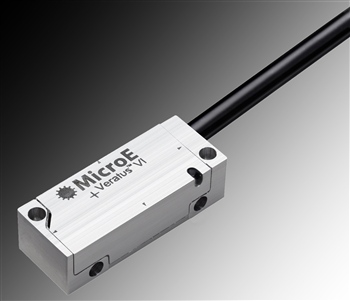 INMOCO has added the MicroE Veratus™ Series to its range of rotary and linear encoders.
As a major new advancement in MicroE's encoder technology, the Veratus™ Series Encoders use the company's new VeraPath™ technology, and deliver the reliability, signal stability, and dirt immunity required in precision industrial applications in the smallest package size in their class.
All interpolation, automatic gain control (AGC), and signal processing is performed in the sensor head that is only 35 x 13.5 x 10 mm. Interpolation in the sensor head provides resolution from 5μm to 20nm for linear applications, with speeds up to 5m/s.
Veratus features multiple mounting configurations, industry standard analog and digital incremental encoder outputs, built-in limits, flexible index selection, and status LED in the sensor head. With automatic calibration, Veratus has a true plug-and-go setup.
The Veratus™ design is totally stand-alone; no additional PCBs, adapters, or dongles are necessary.
Built using new VeraPath™ technology from MicroE, Veratus™ is engineered with advanced optical filtering and state-of-the-art signal processing and electronics. This ensures low position noise (jitter) and smooth velocity control over a wide range of operating conditions.
The interfaces options are A-quad-B or 1Vpp sin/cos. Accuracy is +/- 1 μm (linear glass), +/- 3 μm (linear metal tape) or +/- 2 arc-seconds (rotary).