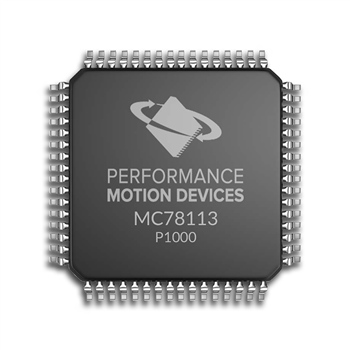 A ground-breaking family of compact integrated circuits (ICs) for velocity and torque control, capable of four-quadrant current control is now available from Daventry's INMOCO.
Developed by Performance Motion Devices in Massachusetts, and launched to the world in February 2018, the *Juno® IC family of ultra-efficient and powerful velocity and torque control ICs are ideal for next-generation laboratory automation, healthcare equipment, and similar applications requiring high speed or low speed motor control.
Performance Motion Devices Juno ICs are expected to profoundly improve the ability of design engineers to achieve greater motor efficiency, precise current control, and accurate velocity profiles.
INMOCO's Gerard Bush says: "Juno ICs deliver smooth, quiet, and efficient motor operation over a wide range of operating conditions for brushed, brushless DC, and stepper motors. As such, they will prove ideal for servo motor applications in liquid pumping or high-speed motor control."
Until the arrival of Juno ICs, design engineers had to develop multi-component solutions. These typically require significant amounts of board space and time for firmware development; only providing limited speed control accuracy, noise and significant heat. Designers also had to create their own interface and safety protocols.
In contrast, Juno's one-chip approach ensures safe and optimal motor performance. It includes over-current, over- and under-voltage, over-temperature, current integration limits and communication monitoring functions.
"The Juno IC's four-quadrant control allows precise ramp up and down," said Chuck Lewin, President of Performance Motion Devices, "There is no other velocity IC on the market today that offers this functionality. The unique combination of velocity and torque control with intelligent safety and performance monitoring delivers ultra-efficient motor control that will help our customers improve development time and system safety."
The Juno ICs are available in 64-pin TQFP or 56-pin VQFN packages, which measure 10 mm x 10 mm or 7.2 mm x 7.2 mm respectively. The Juno ICs are easy to deploy with pre-programmed motion commands and on-board intelligence.
The family of Juno ICs are ideal for equipment such as; centrifuges, laser scanners, dialysis machines, heart assist-pumps, drug infusion systems and ventilators. The IC's compact size, four-quadrant functionality, ultra-efficient operation, and ability to bring motor intelligence to customer systems make them ideal for many precision motor applications in other fields too.
*Juno and Performance Motion Devices are registered trademarks of Performance Motion Devices, Inc.