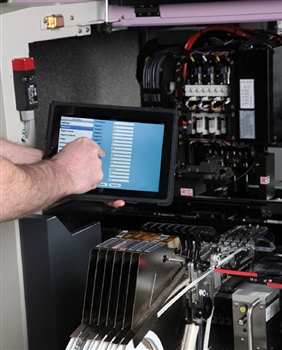 A new App is now available for the iPhone and iPad, providing handy access to the CTC 2700 and 5000 series automation controllers, available in the UK from INMOCO. Available as a free download from Apple's App Store, the qMon™ App allows users to monitor controller status, configure automation systems and optimise operation, both locally and remotely, on mobile and tablet platforms.
The qMon App moves CTC's PC-based CTCmon utility to a platform that users can have with them everywhere they go. When installed, it enables the user to connect wirelessly to any 2700 series or 5000 series controller, and to reset counters, change setpoints, review production data, and more.
Once connected, the App presents the current status of the target controller's digital inputs and outputs, analogue inputs and outputs, motor position and error data, numeric registers and flags. While the default setting within the qMon app is read-only, providing effective system monitoring, it can also be set to write values to the controller. This enables users to set outputs and write to numeric registers, as well to start, stop and reset the controller's program.
INMOCO is the sole UK distributor for the CTC range of automation controllers that integrate motion control, I/O, user interfaces and connectivity. Ranging from small, self-contained systems with 32 I/O points to large-scale networked systems encompassing thousands of I/O points, the controllers provide the basis of advanced automation systems for machines and equipment of all sizes.
The Model 5000 range of controllers includes the 5100 series, the 5200 series and the 5300 Blue Fusion automation controller. The 5100 series controllers are compact, cost-effective Ethernet-based controllers suitable for small machine control with simple motion requirements. Six slots can provide up to 50 I/O and up to four axes of motion. The 5200 series controllers extend these capabilities with web-based remote monitoring, web-based HMI, data logging and email notification. The unit can be configured with up to 48 I/O and up to six axes of motion.
The Blue Fusion Model 5300 is a high performance programmable automation controller designed for a range of machine control and process control applications. The 5300 combines the features of a PLC, motion controller and PC into a small, DIN rail mountable package.
The controller can be used in a standalone configuration or it can be easily networked via its serial and LAN communications interfaces. With a proven multi-tasking, real-time operating system, the Model 5300 provides advanced control of systems requiring up to 512 I/O and up to 16 axes of motion.