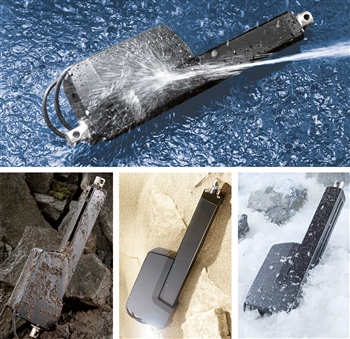 Electrak HD is a new superior performance linear actuator, developed by precision motion specialist Thomson Linear and available in the UK from INMOCO.
Based on the proven and popular Electrak electric linear actuator, the HD is designed to offer higher power, longer stroke, on-board controls with optional CAN J1939 bus capabilities and unmatched environmental protection. These developmental changes each offer a significant advantage to users and specifiers:
Onboard electronics eliminate the need for standalone controls in many applications
 CAN J1939 interface allows connection to communications networks typically found in agricultural vehicles, mobile plant and other machinery
Higher power (up to 10kN or 2250lbs) opens up new application possibilities, many previously the domain of hydraulic solutions
Longer stroke can make mounting easier and gives greater reach capacity
Robust environmental protection means the HD meets the most extreme OEM component environmental acceptance tests, including IP69K.
The HD is built around a high quality ball screw, the efficiency of which reduces power consumption by up to 20%. This is protected by a hard anodised aluminium cover tube and a stainless steel extension tube.
The modular design of the HD allows all control and feedback options to be built into a single compact housing, which improves controllability, saves space and reduces installation time and total cost. Similarly, the CAN J1939 bus option can eliminate individual controls and simplifies OEM machine design.
In use, an electronic trip point calibration feature ensures consistent overload protection, while constant monitoring of critical parameters such as end-of-stroke, voltage, current and temperature is standard on all HD actuators. If the monitoring system shuts down the actuator, it resets automatically when conditions return to normal, thus allowing operations to recommence. Should extra protection be required, the end-of-stroke sensors can be connected to external safety interlocks.
A further feature is built-in dynamic braking, which reduces coasting at the end of stroke, thus improving positioning accuracy and repeatability. Further options include an automatic sleep mode, which reduces the HD's environmental footprint, lowers running costs and boosts circuit isolation.
The wide range of optional control features can, in many cases, eliminate the need for external controls. This saves design and installation time, as well as space and cost. It also allows the HD to be customised to the specific needs of demanding heavy-duty applications.
Gerard Bush of INMOCO says: "The HD's robust design and feature-rich controls make it a very attractive option for a wide range of duties. It will extend the applicability of electric linear actuators and offers a real alternative to hydraulic cylinders."