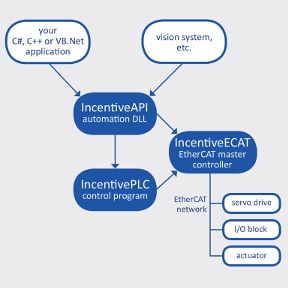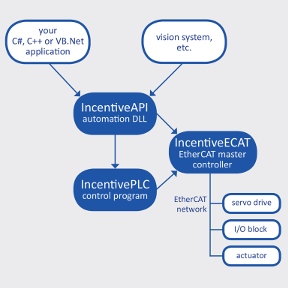 Powerful custom-designed control systems can be designed and built with the Incentive series of automation software components, developed in the US by Control Technology Corporation (CTC) and available in the UK through INMOCO of Daventry.
Advanced technologies bring many potential advantages to manufacturers looking to improve their production processes. CTC provides the flexibility to develop bespoke systems by offering a choice of platform, programming, networks and architectures. Its Incentive Software, for instance, runs on standard PC hardware. This can be married with CTC's Series 5300 programmable automation controllers, with integrated motion, data handling and a powerful high-level language.
Designed to run on standard PC platforms, the main components in the Incentive family include:
• IncentivePLC – a multitasking control runtime system executing the powerful QuickBuilder automation language.
• IncentiveECAT – a high-performance EtherCAT master controller for direct control of EtherCAT devices from standard PC hardware.
• IncentiveAPI – a DLL (dynamic-link library) offering a high-level control API (application programming interface) for code written in C#, C++ or VB.Net.
"Incentive provides users a complete solution for high-performance PC-based control of automated industrial processes, whether for standalone equipment, motion control, or plantwide control architectures," explains Gerard Bush of INMOCO.
Incentive has a real-time operating system (RTOS) that enables simultaneous operation of Windows 10 (or Windows 7) and one or more independent real-time processes. The system combines the responsiveness required of high-speed motion applications and the flexibility of a fully-featured operating system able to run vision systems, HMIs, data tracking and processing applications, and other high-level programs.
Incentive also provides data aggregation, enabling efficient interfacing with database applications. It has provision for network security and other functions necessary when transferring sensitive data.
IncentivePLC has the functionality of a programmable logic controller, so can replace hardware PLCs and create a truly open architecture.
IncentiveAPI provides an extensive API to interface your C#, C++ or VB.Net code to IncentivePLC and/or IncentiveECAT processes running either locally or remotely. In addition to supporting custom applications, this makes it easier to integrate vision systems, HMIs and other third-party subsystems into a system's control architecture.
IncentiveECAT is a powerful software-based EtherCAT master controller that works in conjunction with IncentivePLC, IncentiveAPI or indeed both simultaneously. During initialisation, IncentiveECAT can scan the network to identify all the field devices in the system and automatically configure them for use.
The Incentive family of industrial control software joins CTC's hardware offerings, featuring the Series 5300 programmable automation controllers, panel-mountable hardware solutions for both standalone and distributed control applications. With a wide range of high-density digital, analog and motion control modules available, and extensive data communications and networking capabilities, these systems can serve as the principal control system on even the most complex equipment designs, or as intelligent remotes.
"There is a growing list of vendors' devices which are compatible with the Incentive series," explains Gerard, "making it possible to select the most appropriate equipment for any given duty."
http://inmoco.uk.com/Upload/news/1382_Incentive_DS_187.pdf