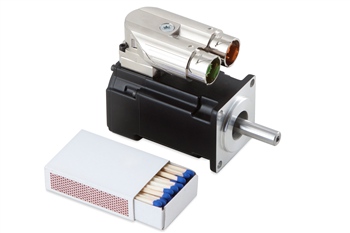 The benefits of permanent field servo technology – energy efficiency, durability, power density and overload capability – are now available to users of extra low voltage motors, via new units in INMOCO's Kollmorgen AKM servomotor range. Originally available in 48V designs, the AKM range has now been extended to include 24V.
The AKM range of motors is wide, giving engineers a good choice of options to meet the needs of their applications. They are renowned for combining power and precision, adaptability and affordability.
The torque range of the AKM Low Voltage Motors is up to 1.25Nm (continuous) and 4.1 Nm (peak), with rated speeds up to 2500rpm. They provide up to 300W of power at a current of 6A, making them ideal for many tasks requiring exact high speed motion and precision control such as positioning, assembly and packaging. The motors' ability to produce high peak currents, up to 15A, means breakaway torques and overloads can be accommodated without the need for an oversized unit.
The motors are available in three frame sizes, a compact 40mm flange diameter, a midsized 58mm and top of the range 70mm.
Like the existing AKM motors, the new 24V options have a power range up to 300W. They will extend the envelope of applications in which the AKM range can be used, typically being selected for lighter duties, such as label printing, vial filling and populating electronic boards, where a 48V motor may have been oversized.
Like the existing AKM motors, the new 24V variants can be used with a wide selection of feedback technologies and have all the benefits of permanent-excited servo drives. They are expected to be used to complement the larger 48V drives, thus will be an appropriate choice for some existing applications, as well as finding new uses.