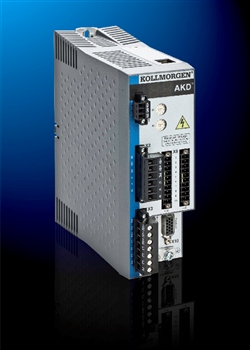 The new AKD BASIC Series of servodrives has a built-in machine and motion controller that can be programmed in BASIC, and does away with the need for a separate controller or PLC.
Available from Inmoco, the motion control specialist based in Daventry, the AKD uses Kollmorgen's user friendly integrated development environment for programming. This leads to reduced design time, while the lack of other components needed to create a motion system means reduced costs and improved packaging due to a reduction in wiring requirements and panel space, while still enabling complex processes and servo performance to be achieved.
The single axis version of the AKD BASIC is the same size as the standard AKD so does not require additional panel or rack space. The controller can also be used to drive a second virtual axis, while an expanded I/O version integrates additional digital and analog inputs/outputs, eliminating the need for remote I/O and providing even greater capability to serve as a complete machine/motion control package.
In its standard format the AKD BASIC has seven configurable digital inputs, two configurable digital outputs; one analog input and one analog output. There is also an Ethernet port for commissioning, programming and Modbus TCP/IP.
The expanded I/O version has 19 digital inputs, 10 digital outputs and 2 relay outputs, allowing the AKD BASIC to serve as a highly capable machine/motion control package. An SD memory card facility provides easy program transfer, without the need for a PC.
While the programming language is named BASIC, it has many useful features such as its ability to use conditional statements, automatic syntax highlighting, auto-complete, auto-format and code templates. There is also a source code lockout feature with password protection.
Eliminating the need for a separate PLC substantially reduces design time, wiring requirements, panel space and overall cost, all desirable features for both OEMs and end users. The range covers power outputs from 1100Watts to 16000Watts, matching the standard AKD.
BASIC is a very popular programming language. It is still widely used, easy to learn, and enables rapid programming of complex motion processes. Used in motion control applications, it supports camming, S-curve, limitless motion profiles and other techniques for more advanced motion. Additionally there is a menu-driven programming option. This offers intelligent formatting, templates and debugging capabilities to assist development and assist in code documentation.