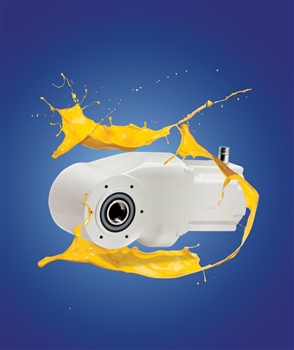 Newly available from INMOCO is an updated version of the Kollmorgen AKM food grade servomotor, which combines a high-performance gear-motor and efficiency-optimised angular gearbox in a compact wash-down package.
This advanced level of integration allows the AKM to be used in most machine-drive and precision-positioning applications in the food and beverage industries. It is also ideal for use in related fields, such as downstream packaging, logistics and handling and food retail equipment such as displays and rotisseries.
Powerful, compact, ready to install, a hygienic design and washable – these are the five main advantages of the ready-to-install AKM motor-gear units. With them, users achieve significantly reduced cleaning times, as a consequence of a smooth, clean-lined water-repellent surface design. Lower running costs can also be expected, thanks to the highly efficient motor-drive combination. The space-saving assembly does not need an additional stainless steel protective housing, so machine designs are simpler, cheaper, faster to build and easier to maintain.
The AKM has a striking appearance, which aids cleanliness, thanks to its rounded shape and white surface, which help prevent the build-up of bacteria and facilitates simple, effective cleaning. The FDA-compliant material of the coating speeds the drainage of washing fluids as a result of its hydrophobic properties, meaning no soap, chemical or residues remain on the surface. This property is enhanced by the total absence of corners and edges.
So that these gear motors can be installed quickly, the AKM offers a two-plug connection for the feedback resolver or encoder, and Kollmorgen's innovative single-cable connection technology.