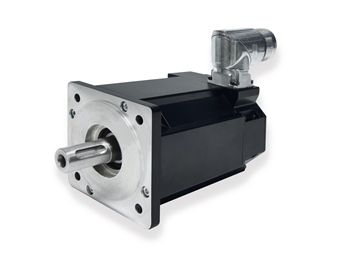 Precision motor specialists INMOCO is launching the first of a series of low voltage DC servo motors to meet the need of new and emerging applications in robotics, automated guided vehicles (AGV), medical equipment and other fields.
Made in the US as an extension to Kollmorgen's AKM2G portfolio of servo motors the new low voltage range includes 24Vdc, 48Vdc, 72Vdc and 96Vdc units as standard, with options to go up to 105Vdc.
The first motor available form INMOCO is the AKM2G Size 3, Connector version, which includes M23 SpeedTec (dual) and htec (hybrid) connectors as standard options. There is a choice of feedback options, including absolute encoder, commcoder or resolver.
Expected during fourth quarter of 2019, further options will be available, including Size 3 flying lead versions and Size 2, Size 4 with both flying leads and connectors.
With windings specially designed for low voltage applications, the new AKM2G motors have been designed for high power and torque density, thus offering more optimised motion performance.
The AKM2G series represents the latest generation of synchronous servo motors and are available in powers from 0.3kW to10 kW. They are designed to provide continuous torque up to 30% greater than earlier servos and support a wide range of feedback, brake, thermal sensor and seal options.
The greater power output offered by the AKM2G motor means OEMs can design compact high performance machines, while end-users can upgrade existing machinery to increase speed and/or throughput.
http://inmoco.uk.com/Upload/news/1556_AKM2G_LowVoltage_selection_RevA_EN_176.pdf