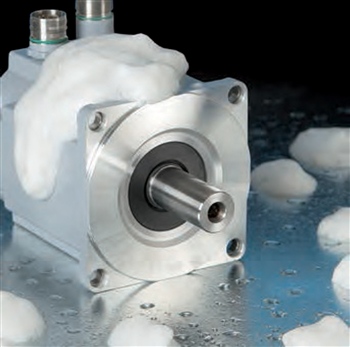 Motion control engineers at Inmoco have announced a new feedback addition to its Kollmorgen AKM range of high performance motors, which provides a high integrity option for safety critical applications. AKM servomotors are designed for easy integration into any given application and paired outstanding torque density and precision with affordability and the fast delivery of a standard solution.
With safety now at the forefront of most machine designers' minds, Inmoco has responded to a developing market need by introducing a safety encoder feedback option suitable for the most safety critical applications. This can be set to have maximum speed and to prevent unauthorised reversal of rotation.
It allows straightforward design and build of motion systems because it does not require its own separate safety evaluation; it has its own clear and simple safety documentation (certified TUV documentation is also available) which can fit seamlessly into safety certification processes. Critically, the encoder's coupling is robust and reliable, so suitable for even the most demanding of applications.
Kollmorgen's AKM range of servo motors have been setting the standards for robust, reliable precision motion systems for over a decade. Their benchmark performance levels of peak values, cogging, dielectric strength, efficiency, etc are complemented by an extraordinarily wide range of accessories and options. Typically, they are amongst the most compact designs on the market, yet have unmatched power density. With over 500,000 possible variants, their flexibility means they can provide the ideal solution for almost any application.
Kollmorgen offers a wide range of direct drive servo motors; stepper motors; drives & amplifiers; gearheads; actuators and multi-axis motion controllers. It is one of the few companies in the world that actually designs and manufactures all of these products.
The range includes: frame sizes from 40 to 260 mm; 28 housing and design length combinations; 117 standard windings for 120/240/400/480V, plus a low voltage DC winding option; flange and shaft options; plus almost endless customisation options and special windings and shafts.
Gerard Bush of Inmoco says: "Servo systems engineers are at the forefront of safety developments. Any moving part of a machine has the potential to be a safety risk, because it could strike a person, trap fingers, or interact in a dangerous way with another part of the machine. Physical guards and light barriers can often be used to isolate such dangers, while feedback devices incorporated into appropriate systems can stop potentially dangerous actions as soon as a problem is detected.
"Completing the documentation relating to safety systems can sometimes be an onerous task. Our new safety encoder has its own documentation, which helps keep paperwork simple and straightforward."