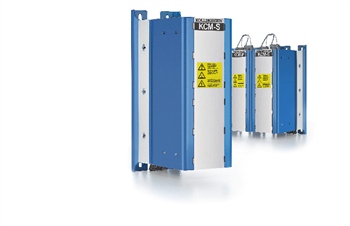 Use regenerative braking to save energy and bridge power interruptions: Two new intelligent devices from Kollmorgen improve performance in multi-axis systems. The KCM-P is the active support module for DC intermediate circuits. With no complex installation required, the KCM-P stores kinetic braking energy using their novel robust capacitor technology to act directly on the intermediate circuit as a UPS for short-term power interruptions, keeping the DC-link voltage intact.
As a dynamic energy storage module for regenerative braking, the KCM-S is easily installed when compared to complex energy storage solutions. The energy stored in the capacitor module during regenerative braking is made available for the next acceleration cycle. With storage and recovery made directly to the DC bus, there are no harmonics to cause interference when power is required.
A third option, the KCM-E, extends the benefits of both regenerative energy modules.