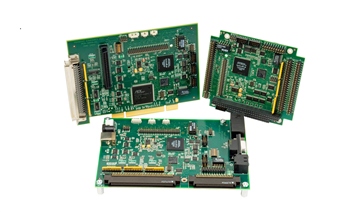 If you're looking for high-performance control of DC brushed, brushless and stepper motors across multiple axes, the typical enclosed DIN-rail mounting box might be your first thought. But INMOCO's Gerard Bush argues that in many general purpose automation applications, as well as in areas such as life sciences equipment, scientific automation and robotics, PCB motion cards, amplifiers and motion/amplifiers might well provide a better option.
Parallel developments in machine automation in recent years have seen a massive rise in the uptake of servo technology. On one side of the equation is the growing need for increased machine performance, in terms of factors such as speed, accuracy, flexibility and reliability. Balancing the equation have been developments in servo technology, with modern servos being both affordable and easy to program.
Of course it was not always thus. It is only in the last few years that servo technology has been a truly affordable option, opening up the possibility for its use on multiple axes around a machine rather than just one or two highly specialised aspects where nothing else could really do the job. At the same time, it is only relatively recently that programming servo systems has become a mainstream automation task, rather than the sole preserve of specialists. Servo technology has broken free from the legacy of its 'black arts' past, and is now usable by the masses.
Combined with modern motion controllers, modern servo systems can eliminate mechanical devices such as gears, cams and shafts from machinery for vastly increased flexibility and improved accuracy. Where modern machines may have to work with multiple products of different shapes and sizes, servo systems enable complete machine changeovers at the touch of a button, significantly reducing machine downtime.
Few would argue with the potential increase in reliability, either. This is not to say that mechanical components are inherently unreliable, but there will always be issues of wear – both natural lifetime wear and catastrophic wear due to problems, for example, with misalignment or incorrect setup – and maintenance.
Where speed and accuracy are important (and where are they not important?), servo systems are unsurpassed, synchronising multiple axes to the highest levels of resolution.
When we think about employing servo technology on a machine, the first thought may well be one of the popular DIN-rail mounting servo amplifiers coupled to a dedicated DIN-rail mounting or PLC backplane-mounting motion controller. And indeed, in performance terms, these will do an excellent job for you. But are they always the best solution? And what are the alternatives?
It was once accepted to talk about enclosed motion and drive solutions (of the type we've just described) and OEM motion and drive solutions, with the OEM system essentially providing you with a populated PCB forming the controller. This enabled you to put the control exactly where you needed it on a machine, and program it to perform highly specialised tasks.
The problems with this OEM approach, though, were twofold. First were the low powers available to those early OEM systems, and the second was the difficultly in programming, which again was the realm of a specialist. Certainly, it was not regarded as a mass market technology option.
But single chip and PCB-based servo technology has ridden the same development curve as its enclosed servo brethren, and these discrete servo systems are now programmed with the same style of Windows-based software as the more visible, cabinet mounted controllers.
What about power, though? Today, single axis motor amplifier ICs can easily give you 4A in current or 150W output power, providing an attractive option on a whole range of motion axes. Higher up the scale, amplifiers built from discrete components will enable you to drive 1000W or even many kilowatts from a single, highly compact PCB. And providing even greater flexibility, high power, highly flexible controller amplifiers are also available on the smallest of boards, enabling the highest levels of servo control to be added anywhere on just about any machine.
Compact, affordable and easy to program, these PCB solutions open up whole new possibilities in servo control, while on-board network interfaces to all of the popular technologies mean integration is as easy as it is with the typical enclosed offerings. And while a typical enclosed servo drive or motion system may mean paying for functions you are never going to use, the PCB-based mighty minis deliver only the control you want, exactly where you need it.
Importantly, these PCB solutions are no longer niche technologies only to be considered in specialist areas of application. They are developed and marketed as off-the-shelf products in exactly the same way as the more familiar servo solutions, but without the overheads of increased cost and unused functionality. Daventry-based INMOCO, for example, offers a complete range of motion cards developed by Performance Motion Devices.
Controlling the torque, velocity and position of DC brushed, brushless and stepper motors, they offer all the required motion profiles for even the most demanding systems, including S-curve, trapezoidal, velocity contouring and electronic gearing, combining convenience with space and cost savings. With multiple channels of analogue and digital I/O, plus communications options such as Ethernet, CANbus, RS232 and RS485 and the flexibility of Windows-based programming, these motion cards and amplifiers open up the possibilities for servo integration into a whole host of machine and OEM product designs.
So next time you look at a servo system for a machine or product, ask yourself whether the typical enclosed, DIN-rail mounting box is the right or best solution. Because a PCB-based system may well deliver greater flexibility, lower cost and ultimately improved control of a greater number of aspects of the system