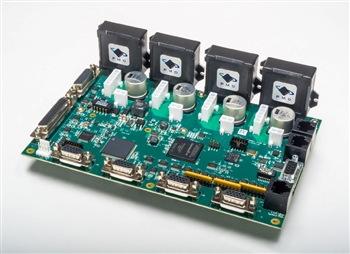 A new machine control card from INMOCO, the Daventry-based precision motion specialists, combines up to four amplifiers and a complete positioning motion controller on a single printed circuit card.
Developed by Performance Motion Devices (PMD) in Massachusetts, the new machine controller is an addition to the Prodigy family of motion cards with integral amplifiers to provide convenience, space and cost savings.
The cards control the torque, velocity and position of DC brushed, brushless and stepper motors. They are based on PMD's Magellan motion processors, which perform motion command interpretation and numerous other real-time functions.
Users can programme a variety of motion profiles including S-curve, trapezoidal, velocity contouring and electronic gearing. Servo loop compensation uses a full 32-bit position error, PID with velocity and acceleration feed-forward, integration limit and dual biquad filters for sophisticated control of complex loads.
Programme development is simplified through the use of PMD's C-Motion development suite, which includes an extensive library of proven motion control code as well as an array of development and debug tools. The powerful C-Motion command set includes an extensive source code library of motion commands that speeds development of C/C++ programs.
Alternatively, the onboard C-Motion Engine (CME) module allows users to download and execute their application code directly on the card.
Communications to the card include 10/100 MBPS Ethernet with UDP and TCP protocols, serial RS232, serial RS485 and CANbus. These cards provide 32 channels of digital and analog I/O, along with numerous additional features such as non-volatile RAM storage, a 468 KB dual ported RAM for trace and multi-dimensional contouring, up to 2MB of user program space, quadrature and absolute SSI encoder input formats, and a full complement of motion inputs such as limit switches, index signals and Hall signal inputs.
The Atlas digital amplifiers provide up to a kilowatt of drive capacity with an input voltage range of 12-56V, a continuous current rating of 14 amps, and a peak current rating of 25 amps. Features include field-oriented control, short-circuit protection, over-temperature sensing, I2t current monitoring, selectable PWM rate and ultra-precise current trace.
Measuring 19.8cm x 12.4cm (7.8″ x 4.88″) they are ideal for space constrained designs, so will find applications in life sciences equipment, scientific automation and robotics, as well as general purpose automation.