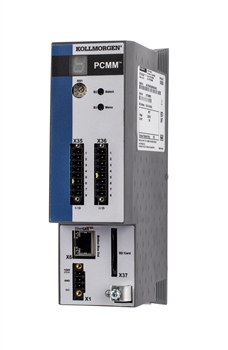 The Kollmorgen PCMM is a new motion controller which can also run automation and logic functions. Available in the UK from INMOCO of Daventry, it can co-ordinate up to 128 axes or fully synchronise 32 axes without the need for a PC.
The PCMM provides a compact yet powerful and cost-effective hardware platform which is ideally suited to modular or stand-alone machines that must combine flexibility with performance. Both the motion control and the automation functions are programmed in the standard IEC 61131-3 languages using the intuitive Kollmorgen Automation Suite's Integrated Development Environment (KAS IDE).
The PCMM is plug-and-play compatible with Kollmorgen's broad range of motion control solutions and has Kollmorgen Workbench integrated into it so that it can provide axis configuration and diagnostics.
At the heart of the PCMM is a powerful high speed CPU, which gives it the capabilities for use with a broad range of applications. There is also an alphanumeric display for easy set up and fast diagnostics and a removable SD memory card for simple file storage and reloading. The on-board digital I/O can be expanded via EtherCAT for high-performance motion and device synchronisation, while PipeNetwork can be used for visual programming of the motion requirements.
Interfacing the PCMM with a machine's or plant's wider control systems is via a 100BaseT connection, which supports TCP/IP, MODBUS, EthernetIP, Profinet, OPC, UDP and many fieldbus options.
The PCMM's embedded real time operating system guarantees performance and stability, while an integrated web server gives remote diagnostics and status checking capabilities.
Even with all this capability the PCMM is compact in size making it easy and cost efficient to mount in a control cabinet, from where it can control multiple servo drives distributed around the machine or plant.