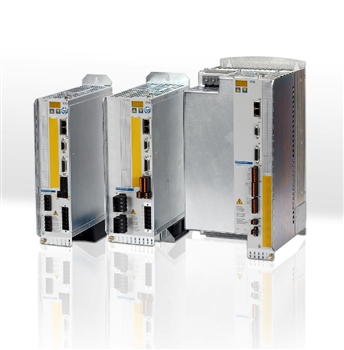 New safety features have been added to the Kollmorgen S700 range of servo drives, available from INMOCO.
'Safely Limited Position' (SLP) and 'Safely Limited Increment' (SLI), the new features, are available as plug-in modules that connect via the backplane bus with the servo controller hardware. This format ensures that there is no reaction delay or loss of time due to communication factors.
The seamless integration with the S700 controller also aids configuration for 'safe return', as the requirement for two channels can be solved internally within the drives. For example, Safety Integrity Level SIL 3 can be achieved with a single resolver.
The integrated safety technology of the S700 servo drive is so fast that sources of risks can be closely approached. This gives advantages: firstly, protective devices can be placed closer to the machine process – which ultimately leads to more compact structures. Secondly, higher machine speeds are possible – without having to provide the safety technology at a greater spatial distance.
With 'Safely Limited Position', the absolute end positions of axes can be monitored safely within defined work and hazard areas in, for example, materials handling. The 'Safely Limited Increment' provides drives with a secure jog mode that will allow travel only within a defined relative move distance. For both functions, if the defined limits are exceeded, the drive is immediately switched off for safety.
With this functional expansion the S700 series servo drives offer a universal Safety-Concept consistent with SIL2 Pld and SIL3 Ple. INMOCO offers these new functions as part of a comprehensive support service that will provide customers with machinery and equipment solutions that can realise high levels of efficiency and safety.