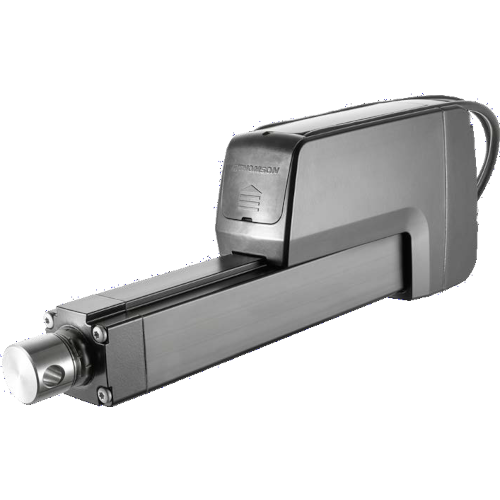 A new linear actuator provides OEM applications with up to 100% duty cycle for repeated use, a total which is significantly higher than comparable electric actuators says the manufacturer. Thomson's Electrak® LL also offers long life thanks to its brushless motor and ball screw assembly, which makes it last up to 375 miles of travel according to the brand, an advance of up to 10 times longer compared to other actuator models capable of the same load and speed.
Distributed in the UK by motion control specialist INMOCO, the Thomson actuator features a maximum static load of 18 kN and a maximum dynamic load of 6 kN. With a maximum operating speed of 30 mm/s, the Electrak LL has a maximum ordering stroke length of 500 mm and a minimum of 100 mm.
Electrak LL's duty cycle, the function of the on-time operation of the actuator's motor, is 35%, which Thomson says is up to 20% higher than comparable electric linear actuators. However, the key benefit of the Electrak LL is that it can extend duty cycle to 100% at reduced load, which increases operational productivity without having to use forced cooling. This total duty cycle potential removes the need to use a higher power actuator for the same frequency of use, enabling the OEM to achieve a more cost effective and compact design. The system also provides constant speed regardless of the load.
Combined, the actuator has been designed for long lifetime operation, including a long-life ball screw and nut assembly increases resistance to wear. This is powered by a brushless DC motor that enhances lifetime relative to brush and alternative motor types, and is paired with a built-in brushless motor drive system. The assembly features a long-life manual override and the load-bearing design of the Electrak LL includes two bearings to handle bidirectional load. To protect the system, Thomson's integrated Electronic Monitoring Package removes the need for separate controls and provides real time internal monitoring of parameters including end-of-stroke, voltage, current and temperature.
To ensure long lifetime under harsh environmental conditions, the actuator is protected within a highly corrosion-resistant casing and the adapters also made from stainless steel. Electrak LL's housing is also coated, painted and sealed, pushing the protection up to IP69K (static) and IP66 (dynamic) standards, meaning it resists corrosion from UV radiation and water jets, and prevents the ingress of dust. The actuator can also withstand temperatures from -40° to 85°C and is CE and RoHS compliant.
Designed for OEMs developing machinery for applications with heavy duty demands that could also require a higher duty cycle, the Electrak LL is ideal for material handling applications. This includes conveyors, as well as door, hatch and valve control, as well as picking, placing and sorting. Suitable to withstand washdown and abrasive detergents, the actuator can also be used in environments where the risk of hydraulic contaminations cannot be accepted.
The actuator has also been designed for railway applications and is able to withstand harsh weather, heavy vibrations and high-pressure washing over prolonged periods. Its characteristics make Electrak LL ideal for opening and closing gravity bins or controlling a pantograph, and the actuator complies with railway standards EN 50155, EN 60077 and EN 45545.
INMOCO's engineers can advise on specification dependent on application requirements and customised variations are also available for high volume OEMs.