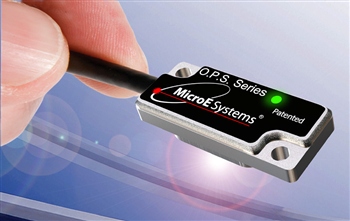 A new series of affordable, high-precision, and customisable optical encoders is now available from INMOCO, the motion control technology and systems specialists based in Daventry. As well as setting new standards in performance the MicroE Systems O.P.S. optical encoders also set a new standard for low installation costs and value.
The encoders accommodate all the electronics within the sensor, rather than in a separate unit. This makes fitting them a single step process and set- up intuitive. Even with on-board interpolation and accuracy-enhancing electronics, the O.P.S. encoders are compact, redefining size standards for the whole industry. As such they are expected to find favour with OEMs and end users alike, particularly those whose applications are space restricted or require customisation.
The O.P.S. optical encoder series combines a digital output resolution up to 50nm, low cyclical error, fast-installing tape scale and dual optical limits along with the sensor's built-in status LED. These features will make it the encoder of choice for many users. OEM applications include CMM's, semiconductor equipment, linear stages, medical robots and scanners, microscope stages, etc. while end users will appreciate the advanced precision they bring to virtually any application.
Ensuring exact positioning and velocity control, the O.P.S. encoders have a cyclical error of just ±40nm. Similarly, resolution performance excels for precision motion applications: linear resolutions of 1µm, 0.5µm, 0.1µm and 50µm are available in the series, while rotary resolutions of 163k CPR to 3.3M CPR are offered.
O.P.S. is compatible with PurePrecision™ Tape Scale II and rotary glass scales. The same sensor works in both applications, reducing inventory requirements for multiple axis machines.
The fast-installing adhesive-mounted Tape Scale II is obtainable with built-in optical index and limit marks that are within the 6mm width of the scale, making it the most compact tape scale available, and achieving one-step installation. The tape is cut-to-length, with built-in or stick-on optical index and limit markers, while the pitch is 20μm. Measuring lengths may be up to 30m. Rotary glass scales are available with or without hubs, and in arc segments.
Locating all electronics within the sensor allows connectors, pin assignments and cable lengths to be easily configured and customized for OEM customer applications.
Aiding installation, alignment tolerances are a generous±2 degrees, while built-in separate left and right optical limits also speed up fitting. The advanced optical design and automatic gain control reduce sensitivity to dust, fingerprints and other contamination on the scale.
Combining O.P.S.'s dual optical limits, class-leading wide alignment tolerances, built-in interpolation and a compact sensor only 8.9mm high, O.P.S. encoders make a strong presence as both convenient and flexible.