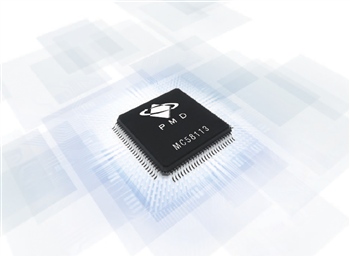 New high-performance motion control ICs, suitable for applications such as medical equipment, scientific instruments, industrial automation and robotics are now available from INMOCO of Daventry.
Designated the MC58113 Series, the new motion control ICs (integrated circuits) are made by Massachusetts's Performance Motion Devices, Inc (PMD), a world leader in motion control ICs, cards, drives and software, and are part of their third-generation Magellan-family. Available in single IC, single axis and 1.5 axis versions, the MC58113s are programmable devices which provide positioning, velocity and torque control for DC brush, brushless DC and step motors.
MC58113 series ICs can be driven by an SPI (Serial Peripheral Interface), CANBus 2.0B, or RS232/485 serial interface. User selectable profiling modes include S-curve, trapezoidal, velocity contouring and electronic gearing.
The ICs can provide servo-loop closure, commutation and pulse-and-direction output, while their advanced digital current control produces a smooth and ultra-quiet operation, particularly of importance in step applications. Additionally, amplifier management features include overcurrent, over/undervoltage and overtemperature sensing.
All of the Magellan chips have a flexible and powerful instruction set, which allows easy initialisation and control of motion axes. PMD's Pro-Motion GUI (graphical user interface) makes it simple to map and analyse system performance, while C-Motion can be used to develop bespoke applications using C/C++.
There are four ICs in the MC58113 Series, each packaged in a single 100-pin TQFP operating at 3.3 V:
• The MC51113 provides dedicated control of DC-brush motors.
• The MC53113 provides control of three-phase Brushless DC motors.
• The MC54113 provides control of two-phase step motors.
• The MC58113 can be software-selected to provide control of any of these motor types.
Other features of the series include: 1.5 axes (primary and auxiliary axis) control; advanced position PID filter with velocity and acceleration feedforward, on-the-fly parameter setting, programmable loop time to 50 µSec; 25 Mcounts/sec encoder input; multiple axes synchronisation between MC58113 series ICs and auto-tuning of motors.