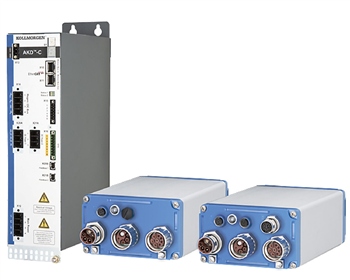 Reduced cabling requirements, smaller control cabinets, greater design freedom, lower machine complexity and higher OEE (overall equipment effectiveness) are all benefits of adopting Kollmorgen AKD-N distributed servo drives from INMOCO. Depending on the application, cable reductions of over 80% can be achieved.
Multiple AKD-N servo drives can be distributed around a machine in close proximity to individual motors, and connected back to a single central power module via a single cable. The hybrid cable provides DC axis connection, power, fieldbus communications (EtherCAT), I/O and safety (STO). The result is a vastly simplified machine design and increased reliability, with more flexible mounting and reduced complexity.
With a robust construction and IP67 rating, AKD-N servo drives can be freely mounted outside of control cabinets even in environmentally challenging applications. A single power module can supply up to 16 AKD-N servo drives, and enable connection of external components.
AKD-N servo drives cover power ratings up to 4kW. In contrast to integrated motor solutions, the AKD-N servo drives enable the optimum motor to be selected for the machine with no de-rating needed for oversized motors. The drives are compatible with all motors in the Kollmorgen range with single- or dual-cable connection, including linear servo motors. Remote I/O modules and fieldbus devices can be connected directly to each drive via optional additional EtherCAT ports.
Typical applications for the new distributed servo drives include packaging machines and production systems in the food and beverage industry.