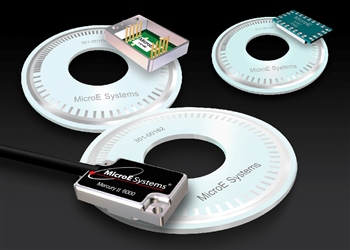 A newly-available absolute encoder technology platform from Inmoco establishes and confirms precise position data immediately after system power up. Even if motion occurred when power was off, the start-up procedure checks and re-establishes the absolute data leading to faster and more reliable machine start-up with fewer overall system checks.
Inmoco, or Intelligent Motion Control Ltd, offers a comprehensive portfolio of state of the art servo equipment, plus applications support, assembly and system building, test and calibration services.
The new Micro Motion Absolute technology uses a small initial rotary movement (typically 4-7deg) on power-up which allows the controller to establish the absolute position with certainty. This leads to easy and confident restarting of any system, even those that are particularly sensitive or those which include valuable/delicate work pieces.
The encoders acquire absolute position data from a pre-programmed absolute track on the encoder wheel. By putting position marks at unique locations on the track, as soon as the motion control system moves a small amount the controller is able to confirm the position with certainty.
Position feedback is sent to the controller in a high-speed serial format, where an FPGA (field programmable gate array) and software (developed collaboratively with MicroE Systems) interprets the signal. Single and multi-axis versions of the interface are available from Inmoco.
The Micro Motion Absolute technology platform is based on MicroE Systems' widely-used and proven optical encoder sensors. Thus they have all of the benefits of high performance incremental encoders, including the high resolution, accuracy, and repeatability that are essential for high precision motion feedback and servo control.
Another advantage is the compact sensor size, including models that can fit into the most restricted spaces or mount on PC boards. This leads to more flexible integration, low power consumption, typically 0.3W, and reliable long-life operation.