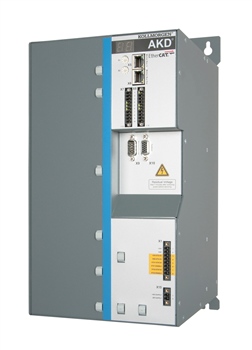 Kollmorgen has extended the maximum output current of its AKD series of servo amplifiers, opening up new areas of application. Now the range goes up to 48 Amps, twice the power of the previously largest unit in the range.
Like existing amplifiers in the AKD range, the new more powerful units are designed for plug and play compatibility with Kollmorgen motors. This coupled with advanced auto-tuning and an intuitive graphical interface for programming and troubleshooting allows systems to be built and commissioned easily and quickly. This feature is further enhanced by the provision of multiple Ethernet connectivity options, feedback devices, bus choices and other networking options.
A PC-compatible TCP/IP Ethernet service channel ensures fast data acquisition in operation. Further, option cards are available for the PDMM to increase I/O, add non-volatile random access memory (NVRAM) and boost processing power.
The design of the AKD servo amplifiers is both robust and compact, while the power density is amongst the best available in the worldwide market. Over-voltage, current, and temperature detection provide for added dependability. They also have very high bandwidth torque-and-velocity loops and fast digital current loops, resulting in precise motion control. Dual channel, SIL 3/PLe certified STO is implemented as standard.
The new larger amplifiers can be used in many heavy duty, precision applications such as metal forming, pick and place, web handling and robotics. As well as possibly replacing costly centralised hydraulic systems hydraulics, they can be used to create servo-hydraulic systems in which they drive hydraulic pumps distributed around the system directly and so precisely that there is no longer any need for valves. This also reduces the need for hydraulic pipe work and hydraulic fluid, hence reducing costs significantly