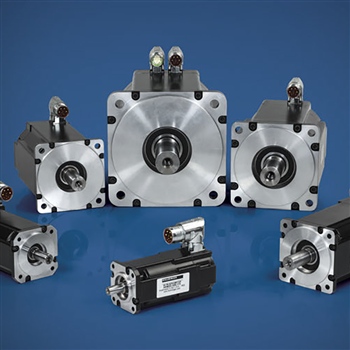 INMOCO is now offering the Simple Co-Engineering (C0-E) options on the ground breaking Kollmorgen AKM®2G servomotor range, so that users can order motors optimised to their applications without increased cost or lengthened lead times. Furthermore there is no minimum order quantity nor any non-recurring engineering charge.
The AKM®2G motors were developed by Kollmorgen to provide next generation performance, with torque outputs 30% higher than other motors of similar size. Further benefits include a choice of feedback options to meet application requirements and single cable connection technology to simplify installation. There are six sizes available, covering powers from 0.18kW to 11.8kW and torque outputs from 1.8Nm to 75.2Nm.
Since its launch the AKM®2G has been offered with numerous shafts, mounting and connector options, the most popular of which are now available via the Co-E programme.
INMOCO's Gerard Bush explains: "Besides the standard metric IEC with closed keyway (AC) and metric IEC (AN) types of mounting, the Co-E brings new options of alternative shaft with closed keyway (GN) and alternative shaft (GC) options. Also the shaft is modified to match the next-generation smaller frame-size motor."
The Co-E encompasses similar expansion of options for the connectors. A single right angle M23 connector is available for the whole range from Frame size 2 to 7; dual right angle M23/M23 and dual straight M23/M23 connectors can be provided for Frame sizes 3-7; a 'ytec' connector is available for Frame size 2 and single right angle M40 and dual right angle M40/M23 connectors are available for Frame size 7. The right angle AKM®1G connector can be used on all frame sizes of AKM®2G.
Similarly the Co-E increases the number of standard feedback options," says Gerard. "All sizes can use resolver, SFD3 and Hiperface solutions, while BiSS and Endat encoder options are also available.
"All told Co-E expands the number of configurations in which AKM®2G motors are available as standard" says Gerard. "Of course we can still prepare specials to suit particular applications. Thus state of the art motion control is available to all."