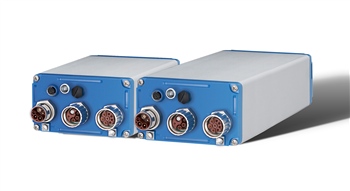 The performance of the Kollmorgen AKD-N Decentralised servo drive control system, available from Daventry-based motion specialists INMOCO, has been doubled to 12A, equivalent to a doubling of output to 4.8kW. This opens up many new areas in which the company's motion technology can be used.
The AKD-N is a decentralised drive system that consists of a central power supply and robust IP67 rated servo drives. It is designed to be as simple as possible to install, commission and use, while also providing everything that is needed for state of the art and next-generation machine control.
INMOCO explains that one of the contributing factors to this simplicity has been the designers' determination to reduce the cabling requirements as much as possible. To this end, the power supply, safety and fieldbus communication are combined into one single hybrid cable of only 11mm diameter. On the motor side there is also only one cable needed for power, brake, control and feedback functions. Typically a multi-axis system based on the AKD-N can be set up using only 20 percent of the amount of cabling needed for other solutions.
As well as doubling the output power of the system, the central rectifier units have also been enhanced. These compact devices can now also provide 20kW continuous output, compared to the previous limit of 10kW. The short-term peak output is just short of three times the nominal current.
One of the advanced standard features of the AKD-N is that Safe Torque Off can be set up for a single axis or for multiple axes, while tertiary EtherCAT output and local STO are available as options.
All this results in smaller control cabinets, better options for modularisation, drastically reduced cabling outlay, and greater flexibility in construction. The AKD-N servo system also supports fast and cost-efficient installation using single-cable connection technology.