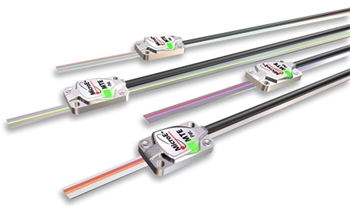 Inmoco has launched the MicroE Systems MTE series tape scale linear encoder product, a patented optical detector that offers the smallest sensor size and industry leading alignment tolerances. Thanks to its innovative cost effective packaging the MTE gives users the option of adding high precision position feedback in a range of applications that up until now would not have been considered due to cost.
With a status LED in the sensor and an easy to install metal tape scale, the MTE series is being hailed as an outstanding new encoder solution. The three colour LED provides installation guidance without the need for alignment tools or oscilloscopes, while broad alignment tolerances aid fast integration. The tape scale also has an integral optical index and all electronics are mounted in the sensor, aiding its fast and straightforward mounting. Once in operation the LED generates an active system signal that the user can easily monitor.
The MTE encoder is available in factory set resolutions of 5µm, 2.5µm, or 1µm. Compared to other encoders, the MTE offers high end performance in the smallest package with a significantly lower cost per unit. The MTE generates high servo feedback quality, low jitter, and insensitivity to scale contamination. Cyclical error is only ±40nm, enabling high positioning precision and smooth velocity control.
Comprehensive quality testing and manufacturing to ISO9001:2008 quality standards ensure world-class robustness and reliability. MTE encoders are RoHS and CE compliant.