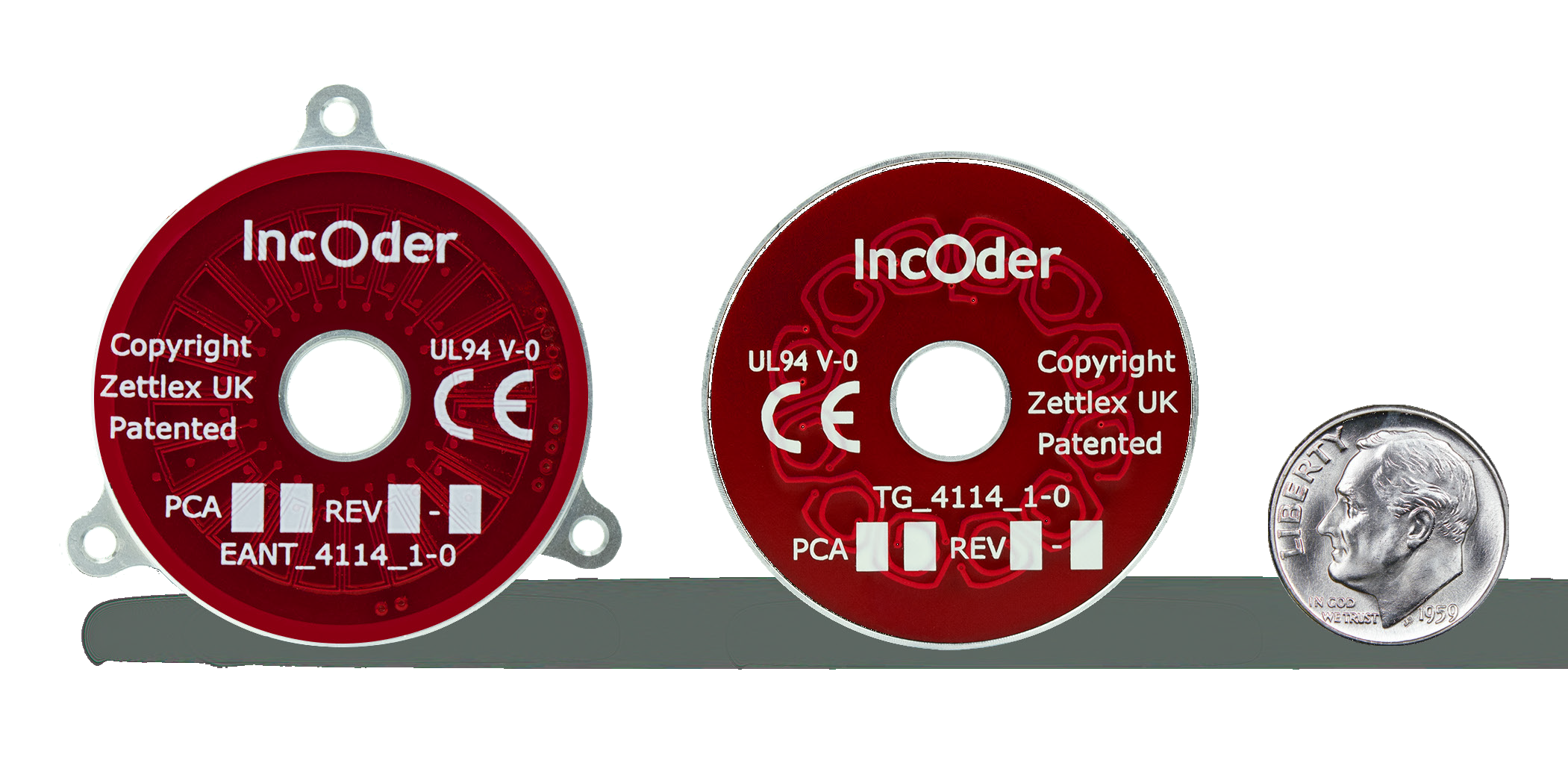 A new range of mini inductive angle encoders are now available for ultra precision measurement of angle or angular speed in harsh environments. Non-contact inductive technology makes Celera Motion's Ultra IncOders, now in 37mm and 58mm diameters, more reliable than capacitive and magnetic encoders. The Ultra IncOders, distributed in the UK by INMOCO, are pre-calibrated and offer up to 19 arc-seconds accuracy and 22 bits resolution.
Celera Motion has released the new Mini Ultra IncOder, providing reduced diameter options for applications demanding the lowest footprint, including mobile robotics applications such as unmanned ground vehicles. The Midi Ultra IncOder series, which has a larger outside diameter range of 75mm to 300mm, has been augmented with a duplex option – providing redundancy for safety-critical applications such as surgical robots, a feature that is also included in the standard Mini IncOder.
Measuring via induction, the IncOder's accuracy is unaffected by moisture or particulates. This also means that measurement performance is largely independent of installation tolerances. Combining expansion options, the Ultra IncOders can be used to measure weight, vibration, strain, shock, tilt, pressure and temperature. Ingress protection up to IP67 is also available.
As a result of these features, Celera Motion's Zettlex Ultra IncOder series is highly suited for outdoor, rugged environments, and applications where optimal accuracy is needed. Satcom, UAV, defense, industrial robotics, CNC machining and surgical applications have integrated the IncOder product as a result.
The flat ring design comprises a powered stator that measures the absolute angular position of the passive rotor, relative to the stator, with no motion required. The lightweight design features simple, screw-in mounting for OEMs. Cabling, through-shafts, slip rings, and pipes can also be integrated through the IncOder's bore, reducing space requirements to achieve a compact footprint. Inductive technology removes the need for bearings, bushes or seals, and entails the IncOders are fit-and-forget, maintenance-free.
Celera Motion's Ultra IncOders communicate over ASI, SSI, SPI, BiSS-C and A/B/Z pulses, and operate on 5, 12 and 24 VDC. The product series integrates with a wide variety of drives and controllers – but is well matched with Celera Motion's Omni and Agility direct drive, frameless motors, and Celera Motion's Ingenia servo drives. Combined, it creates a highly compact, lightweight, motor, controller, and positioner precision motion control package.
"Even if subjected to grease, debris or moisture, the Ultra IncOders will continue to provide highly accurate, consistent measurements where other encoder types cannot," says Gerard Bush, engineer at INMOCO.
"High accuracy and resolution are combined in a highly compact package, now made smaller still with the release of the Mini Ultra IncOder diameters."