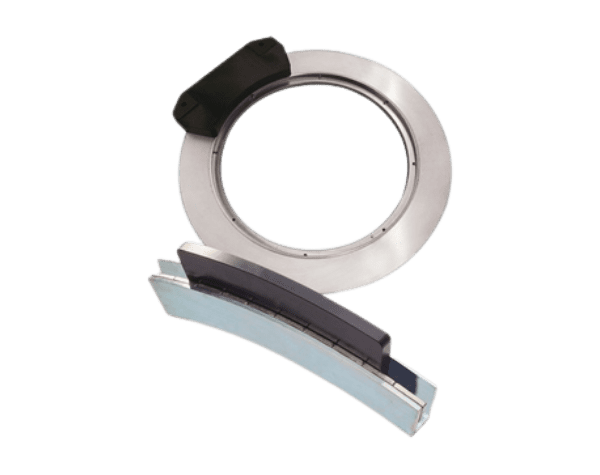 Direct drive, smooth motion motors are moving light payloads in arc and full 360-degree rotary profiles. Designed for OEM equipment that needs to deliver precision motion, the Celera Motion Infinity Series motors enable flexibility and accurate motion that is not possible with conventional motor designs. INMOCO in the UK are distributing these motors that achieve high accuracy control in an ultra-low profile and lightweight construction.
The Infinity Series low-profile direct drive motors are targeted at applications including lightweight gimbals, broadband communication antennas, medical scanning, diagnostic imaging, inspection and metrology equipment. Ultra-thin, arc-shaped motor segments can be used individually or combined to create a greater motion circumference, up to 360 degrees. This enables design flexibility within a highly compact, lightweight construction. The Infinity Series delivers modular construction for large diameter motion up to two meters and features large through holes for ease of installation of cables, optics and sensing elements.
The ironless design of the Infinity Series direct drive motors provides high accuracy with zero cogging. This generates highly accurate control across the entire range of motion. High power density also enables a compact footprint, with axial heights as low as 20mm are possible, particularly compared to large and heavy traditional direct drive motors. Generally suited to continuous duty applications, Infinity can also be used for dynamic, peak duty purposes. Celera Motion encoders delivering rotational position feedback, can be easily integrated alongside Infinity motors, and accuracy up to +/- 2 arc-seconds can be achieved with the Optira Series encoders.
Medical diagnostic imaging systems, for example, benefit from Infinity's wide diameter form-factor, which can suit an aperture of 900mm. The ironless, direct drive motors deliver smooth precision motion required for accurate scanning. Quiet operation ensures quality of patient experience and Infinity's low profile design enables a small machine footprint to minimise floorspace.
Customisation of winding and form factors are available from Celera Motion to meet a variety of application requirements. The Celera Motion engineering team can collaborate on bespoke projects with OEMs and development of a complete mechatronic system with motors, encoders, servo drives, and integrated motion control technology. INMOCO's engineers in the UK, can work closely with the Celera Motion applications team for solution development, and are available to provide engineering and design consultation.
Infinity Series provides up to 63.4 Nm continuous torque and 190.2 Nm peak torque at five amps. Infinity is also compatible with a wide range of drives and controllers.