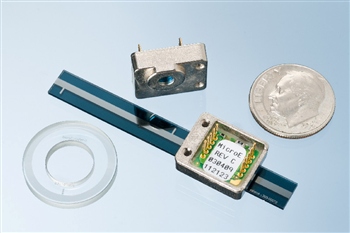 Addressing the increasingly important miniaturisation trend in motion control, INMOCO has introduced Mercury 1200 and 1500P compact optical encoders to its range of precision, servo and automation technologies.
Manufactured by MicroE Systems, a worldwide innovation-leader for encoder developments, the Mercury products set new standards in compact design by using a PCB through-hole mounting technique that reduces height and allows encoder installation into small spaces of almost any shape. This is combined with the patented PurePrecision optical design which removes the need for lenses and reticules to create a range of encoders that combines superb performance, ultra-compacted size with ease of installation and use.
The PurePrecision optics work with the Mercury range of linear and rotary glass scales. Mercury glass scales save time by eliminating motion system calibrations or linearity corrections required by other encoders, and provide better thermal stability than metal tape scales.
For Mercury, as with all MicroE Systems, neither speed nor performance is sacrificed to achieve size reduction. Broad alignment tolerances allow users fast and trouble-free integration. The Mercury 1500P offers 0.5 micron digital output from the sensor, while the Mercury 1200 analogue output is interpolatable to 78nm.
There is a rapidly growing field of applications for miniature encoders, as machine builders and systems integrators are constantly striving to make their products smaller yet more controllable and feature-rich. Current examples include the drive to reduce the size of joints on robot arms so that they can be used in new applications requiring either a deftness of movement or the need to operate within restricted size envelopes. By reducing size and inertia while harnessing the accuracy benefits of the Mercury 1200 and Mercury 1500P, robot builders have advanced the state of their art considerably.
The compact size of the Mercury encoders also provides exceptional benefits in weight saving and faster system throughput for electronics and PCB assembly equipment. Many manufacturers of linear motors are adopting Mercury as their default encoder choice due the wide selection of scale sizes.
Mercury 1200 and Mercury 1500P are compatible with a wide range of available rotary scale diameters and are available in both linear and rotary versions. The 1200 has a resolution of 5μm–78nm (analogue output) and for the 1500P resolution is 5μm–0.5μm (digital output).