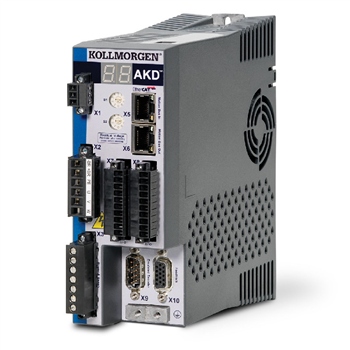 Inmoco is extending its range of motion control products by offering Kollmorgen's newly released Ethernet-based AKD digital servo drive. The AKD offers industry-leading flexibility –including plug-and-play motor set-up, scalability, communications and power range to meet the unique performance requirements of almost any application; from basic torque and velocity applications, to indexing, to multi-axis programmable motion. This enables machine builders to standardise on a single drive family with a common Graphical User Interface (GUI) across a wide power range (0.5 kW to 64kW), minimising engineering time and set-up and installation costs.
The AKD is both easy to use and fast in operation, enabling optimised, high performance systems to be up and running quickly, in less space and for less cost, than lower performing options. Plug-and-play compatibility with Kollmorgen servo motors and linear positioners makes for fast and simple integration, while the Graphical User Interface (GUI), with intuitive icons and screen flow, makes navigation, set-up, and programming quick and easy. Complementing these features, online troubleshooting and data verification enables faster, error-proof programming across a broad power range of compact drives that offer users the time saving convenience of a single interface.
Fast set-up of the AKD is mirrored in the drive operation itself, the AKD accommodating changing load conditions immediately, with market-leading current loop updates in 0.67 μs, and velocity and position loops of 62.5 μs and 125 μs, respectively. In addition, the AKD optimises efficiency at the touch of a button with auto-tuning and wizard-based tuning. Integrated into the AKD servo drive are patented auto-tuning algorithms that automatically adjust all gains, and provide immediate and adaptive responses to dynamic loads, delivering precise control of all motor types. The auto-tuning feature can also help overcome less-than-perfect mechanical designs, by compensating for imprecision in transmissions and couplings that would otherwise prevent a machine from achieving its design performance.
In addition to ease of use and speed of operation, the AKD's scalable programming feature is a significant cost saving benefit that sets the servo drive apart from competitive units available today. Scalable programming enables the servo drive to satisfy the requirements of the widest range of applications, ranging from a single axis of motion that is as simple as analogue torque and velocity, up to 128 axes of fully programmable synchronised motion. Further, the AKD is uniquely capable of supporting the most commonly used feedback devices, including Smart Feedback Device (SFD), EnDat2.2, 01, BiSS, Analog Sine/Cos encoder, incremental encoder, HIPERFACE®, and resolver, and offers multiple bus choices for system optimisation, including EtherCAT®, SynqNet®, Modbus/TCP, and CANopen®.
The fact that these feedback and bus options are available "out of the box" from the base hardware, without the need for any separate option cards, enables the AKD servo drive maximise operational flexibility while reducing the costs and overall footprint increases associated with integrating option cards.