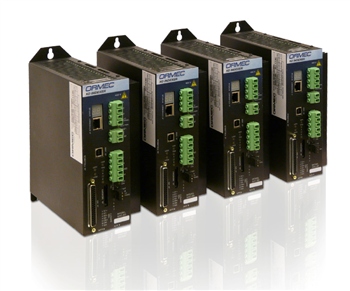 Inmoco has expanded its ORMEC XD-Series indexing servo drive family of products with 400V models of 1.4, 2.4 and 4.8 kW ratings. These high-performance single-axis models support 3x peaking and offer 50% higher power density. The small footprint of the servo drives also benefits OEMs and end users, in terms of reduced panel space requirements.
The introduction of the 400V models means that Inmoco's complete ORMEC XD Indexer family now includes a full complement of 200V and 400V models ranging from 0.6 to 24 kW continuous power rating (3 to 60 amps current), making the XD Indexer family power range, the widest in the industry.
The XD Indexer family is designed to provide high performance and reliable motion control capabilities in demanding applications such as intelligent conveyor control, pick and place units, labelling systems, flying shears, rotary knives, scanning systems, high speed printing and part storage and retrieval. In addition, the unique built-in features of the XD Series allow it to support otherwise difficult application requirements, such as tension control, dual loop feedback, registration, gearing and many more. Where the requirement is for multi-axis applications, these are implemented simply by interconnecting the required number of XD Indexers.
The XD Series meets the requirements of demanding applications with 32 programmable motion profiles, which can be mapped to I/O points – 1 or 2 functions per point; these are initiated via Modbus/TCP, and can be chained or looped together. The adaptable I/O, with 14- inputs and 8- outputs, offers the flexibility to be mapped to change from position, velocity or torque modes during program execution. In addition, motion can be synchronised with any supported machine I/O, allowing for start, stop or trigger speed changes, with inputs at any point in the chain, and user-defined units for axis position speed and acceleration, further simplifying implementation.
Complementing the comprehensive built-in functionality of the XD Series are powerful interface capabilities. By employing an HMI or optional Fieldbus communication, the servo indexer allows for motion parameter adjustments, remote commanded motion and real-time indexer status read capabilities. Communication set-ups may be accomplished via USB or Ethernet connections, with Modbus/TCP, Ethernet/IP, CANopen and Profibus DP options.
The XD Indexers are supported by MotionSet Software, an intuitive interface for simple setup, testing and installation. Intuitive controls such as 'drag and drop' I/O assignments, digital scope and menu driven programming make the configuration, debug and installation of complex applications quick and easy. A built-in Motor Wizard simplifies non-standard motor configuration providing seamless integration of most third party motors. This simplifies non-standard motor integration for quick commissioning of existing motors in the field.
For more critical applications, the XD Indexers offer users a cost-effective redundant Safety Circuit, which is available for implementing EN13849-1 standards. Protection of another kind is also provided, via the rugged steel enclosures that house the XD Indexer servo drives. These help to reduce overall EMI emissions.