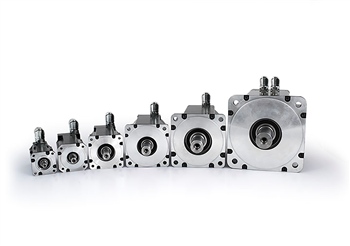 A step change in the performance capabilities of servo motors is set to open up significant new fields of application for machine and system builders.
This is the main conclusion from the annual Kollmorgen Partners' Meeting held in September at the company's European headquarters in Ratingen, Germany, where the new AKM2G synchronous servo motor was put through its paces.
Gerard Bush of UK distributor INMOCO says: "We have been assessing the AKM2G for a couple of months in the UK and are blown away by how much power such a small motor can generate. It has up to 30% greater torque density than previous Kollmorgen motors.
"This means we can help design far more compact machines and fit drive systems into spaces that were previously unrealistically small. In turn this will increase the machines' productivity and aid their flexibility and adaptability."
The AKM2G is available in sizes from 0.18kW to 12kW and offers continuous torques from 0.65Nm in the smallest frame size, with rated speeds up to 8,000rpm, up to 72.1Nm in the largest frame size, with rated speeds up to 3,000rpm. Despite their small size, they are robustly built and fitted with excellent seals so that they can be used in demanding environments.
Significantly they can be used with a wide range of servo-amps, giving users the flexibility to use or re-use existing equipment. However, when paired with Kollmorgen's AKD, high performance set-up is a simple plug and play procedure and output performance is fully optimised.
Feedback options for closing the loop on AKM2G systems include SFD3, Hiperface DSL, EnDat 2.2 and resolver. This choice means the servosystem can be designed to perfectly match application and performance requirements. All except resolver feedback are available with a single-cable connection simplifying motor wiring, installation and maintenance. Flexibility is further increased through connector options, and complementary equipment such as a holding brake for the motor.
The motor is already generating a buzz amongst INMOCO's regular clients, as Gerard explains: "At the simplest levels, the AKM2G servo motors are a great addition to the AKM range, which already includes food-grade and wash-down servo motors, stainless steel units and other options. But they are also redefining expectations for many potential users.
"Most people who have seen them immediately started talking about potential applications where they will in some way add to an existing installation or resolve a previously intractable problem.
"With Kollmorgen's backing and our market presence, their motor design excellence and our applications expertise, we will be taking servo systems performance to a new level. This will lead to increases in productivity and profitability for end-users across a wide range of industries."