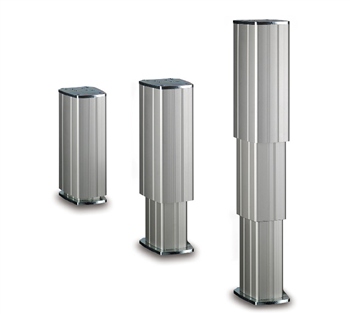 Lifting columns that are self-supporting and height adjustable, compact and pre-aligned for easy installation are now available from INMOCO, the precision motion and positioning specialist based in Daventry.
Designed for applications requiring telescopic motion, the new Thomson LC Series lifting columns are available in three models, LC1600, LC2000 and LC3000. All feature self-supporting extruded aluminium profiles for maintenance-free operation and worry-free functionality.
The LC1600 is a two-piece extrusion with 1600 N loading capacity and is designed for cost-sensitive applications where the extension-to-retraction ratio is not overly critical. The LC2000 and LC3000 are three-piece telescopic units with 2000N and 3000N capacity respectively; the former uses a leadscrew mechanism, the latter a ballscrew for heavy lifting.
All LC Series lifting columns provide smooth, quiet and fast operation and offer an excellent extension to retraction ratio resulting in the maximum range of motion in a minimal footprint. They provide flexible linear motion solutions with a high moment load capacity and large holding capacity to frame size ratio.
The model that is most appropriate for a given application depends on the balance that is needed between extension-to-retraction ratio, load capacity, speed and cost.
Thomson LC Series columns can be used as standalone units or linked into multi-unit mechanisms. , They can also be customised to meet specific application requirements. The result is an optimised, self-supporting, and compact lifting solution for a wide range of applications.
INMOCO says the LC lifting columns are especially suited for medical and ergonomic applications, such as dentist's chairs and physiotherapy tables. Their easy installation, maintenance-free operation, high moment load capacity and extension to retraction ratio also make them ideal for a wide range of other applications, such as adjustable desks and workstations, multi-function wheelchairs, lifting aids, x-ray and scanning machines, adjustable beds and chairs for barbers, beauticians and make-up artists.
Their quiet operation, compliance with multiple standards, clean lined appearance, self-contained design, and no-maintenance operation mean they can be used across a wide range of industries and never look out of place.