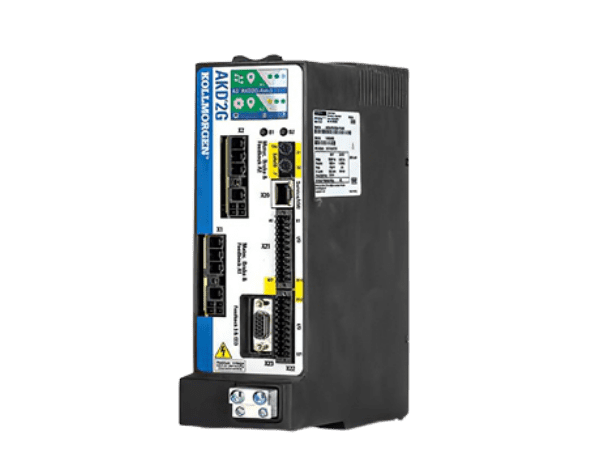 Kollmorgen has released a new servo drive, motor and cable motion package, designed to increase machine performance and reduce footprint. The new Kollmorgen 2G Motion System, distributed by INMOCO and aimed at OEMs and system integrators, features integrated safe motion and is easy to install for existing and new machine designs.
The 2G Motion System has been designed to work together for optimal performance in a compact package. The AKM2G single cable motors have improved power density with an average torque increase of 30% over the first generation AKM motors of equivalent size. Compact, dual axis AKD2G drives provide up to twice the power density and include integrated I/O which can be expanded without increasing panel space requirements. The drives also feature integrated SafeMotion, reducing the cost and footprint requirements of an additional external safety controller.
The AKM2G servo motor provides high torque density, decreased indexing time and increased responsiveness, and the lower inertial feature also makes AKM2G a better fit with high dynamic applications. Performance ranges from 0.65 Nm continuous torque at stall at 8,000 RPM rated speed with 0.0930 kg-cm2 rotor inertia, through to 72.1 Nm continuous torque at stall at 3,000 RPM with 88.6 kg-cm2 rotor inertia. Feedback options include Kollmorgen SFD3 as well as HIPERFACE DSL and EnDat 2.2, both of which support functional safety. Dual-cable resolver feedback is also a standard option and customer-specified feedback devices are available through co-engineering. Standard winding choices range from 120 V to 480 V.
The AKD2G servo drive, at just 76 mm wide and 235 mm high for 110-230 V drives and 75 mm wide and 272 mm high for 230-480 V drives, achieves twice the power density of single axis drives thanks to its dual axis capability at 20% less space than competitors' dual axis technology. With 16 I/O ports onboard including Safe Torque Off (STO), this can be expanded to 28 without increasing the size of the drive. Control technology comprises Servo on a Chip with Dual-Core ARM A9 and the AKD2G boasts rapid, accurate motion control. Performance characteristics include 1.28 us current loop, 62.5 us velocity loop and 250 us position loop.
Easy to use, the AKD2G servo drive features plug and play compatibility with Kollmorgen controls and motors, as well as full colour display for easy access to commissioning data. Kollmorgen's WorkBenuch GUI software tool includes one-click autotuning as well as wizard-based manual tuning when required. Meanwhile, communications integration includes EtherCAT, FSoE and CANopen.
The AKD2G servo drive's integrated safety includes SafeStop, SafeSpeed and SafePosition functions. Amongst the full range of functions, examples include Safe Brake Test, Safe Brake Control, Dynamic Braking, Safe Speed and Safe Direction. The integrated safety functionality increases productivity by reducing unnecessary machine stops and removes the footprint and cost requirement for an eternal safety controller.
Faster machine development and easy integration is achieved with drop-in motion performance and no need to change the existing machine design. Motors are available with a wide range of frame and stack length combinations as well as electrical configurations. If required for bespoke or specialized applications, co-engineering is achievable with Kollmorgen, facilitated by INMOCO's engineering expertise.
For complex, multi-axis machines, the Kollmorgen Automation Suite (KAS) is available to develop a full automation system. This takes Kollmorgen's capability from individual or small groups of independently controlled axes through to complex synchronized motion on multi-axis machines. KAS includes controller hardware, I/O devices, HMI and an additional safety controller.