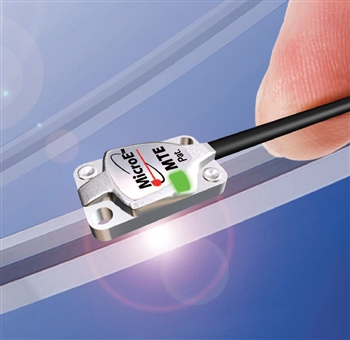 The Micro Tape Encoder (MTE) range of encoders, available from Inmoco, now has a side mount fitting to complement the existing top mount option.
The MTE is part of the MircoE Systems product family and is optimised for linear applications with challenging space and cost constraints where rapid time to market and energy efficiency are critical. Using MicroE's patented optical detector design, MTE delivers industry-leading sensor size, energy efficiency and alignment tolerances. The compact sensor is designed to be easily installed in top or side mount configuration. It does not require any alignment tools or oscilloscopes, while the FlexFit adaptor mounting kit makes it possible to install MTE without redesigning system hardware.
The MTE is available in three models: the MTE-4 has a resolution of 5μm; the MTE-8 resolves to 2.5μm, and the MTE-20 to 1μm. All have an operating speed of 7.2m/s and produce a digital output, which can be A-quad-B, Index Window or Alarm.
In use an LED in the sensor provides real-time indication of system health and alignment, while interpolation is performed within the sensor itself.
MTE works with Compact Encoder Tape (CET), which is only 6mm wide, installs quickly on virtually any surface with standard adhesive backing, and can easily be cut to length in the field to minimise inventory and simplify manufacturing logistics. The sensor is a compact 20.6mm x 12.7mm x 8.7mm and weighs only 5g, so fits easily into the most space-constrained applications.
Founded in Massachusetts, in 1994, to develop the world's most innovative encoder technologies, MicroE Systems' instruments have been used by thousands of companies worldwide to solve a wide range of motion control applications and drive innovations in the design of machinery, equipment and instrumentation in many industries including medical, industrial, robotics, automation, metrology, semiconductor manufacturing, packaging equipment, entertainment, energy, military and scientific research.