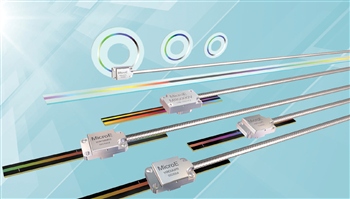 The MicroE Systems Mercury™ and Mercury II™ vacuum encoders, available from INMOCO are smaller, of higher performance, faster to install, and easier to set up and align than any other encoder. These tiny units fit into very tight spaces and work in both linear and rotary applications.
Thought to be only one-third the size of other encoders, the sensors are 8.2mm tall, yet capable of resolutions up to 1.2nm and cyclical error of ±20nm. This means unsurpassed motion system performance can be achieved in compact vacuum applications. All models perform at 10-8 torr with negligible outgassing and are resilient to magnetic forces.
The Mercury units have advanced electronics built into their shielded D-sub connectors to give class-leading performance in electrically noisy environments. The range includes encoders with digital, analogue or programmable output. Output is A-quad-B with interpolation to give resolutions to 0.005μm (linear) and 67.1M CPR (rotary).
Power consumption for most models is only of 0.25W, a level of energy efficiency that has the significant side benefit of reducing thermal effects.
Set-up is simplified in many applications because a design feature ensures alignment during bolt-in, while a LED (light emitting diode) confirms alignment and index location. Using these features, set-up can be finalised in under 30 seconds. Further aiding set-up and use, the index signal is bidirectional and repeatable to each encoder's resolution.
Vacuum-compatible linear and rotary glass scales are available in lengths from 13mm to 2m, and diameters up to 121mm. A range of resolutions is available for various units within the range: for instance, the Mercury II 6000V has a resolution of 5μm–1.2nm, while the Mercury 1500V offers 5μm–0.5μm.
All the Mercury vacuum encoder sensors are vented and constructed with vacuum compatible materials and designed for a 48-hour bake-out at 150 degrees C. Colour-coded bare leads are provided for customer termination.